Accommodations are from Saturday evening to Friday morning from June through early October. We are organized for your party of four. You won't have to make small talk with strangers in a lobby or share a table with anyone but your personal friends and associates. The cost per person in a party of four for the week is $2,500 with lodging, meals, wine, open bar, guiding all included. We believe that once you've experienced these mountains, the fishing, and the Lodge, you'll want to keep it as a part of your life. "Five stars for fishing, service and lodging. You have put together the whole package. May the oxbows be with you."
-----M.S., NY




One half deposit on reservation. Balance due two weeks before reservation date. Gratuities not included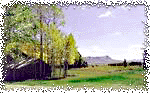 The Package includes:
Fishing in 30 miles of private headwaters, rivers, streams, high lakes and countless beaver ponds, driftboat excursions
All the equipment and tackle necessary to enjoy the various types of angling
A staff of two who stay nearby:
- An experienced and talented flyfishing guide
- An outstanding chef who will prepare fine meals at your convenience
Gentle horses for outings
Beautiful mountain trails for hiking and biking
Sturdy company vehicles
Transportation from Walden-Jackson County Airport (33V) or Laramie (LAR) (available from United Express from Denver), or from the train station in Granby.
Private air transportation from Denver can be arranged.


Your Exclusive Luxury Retreat includes:
A beautiful 80-year-old cabin which has been meticulously restored
Exceptional views
Two bedrooms, each with aspen-panelled bath and cedar-lined closet, set up for singles or couples
Large, comfortable living room with the original, massive fireplace
Large picture windows for your view to the south
Elegant and comfortable rustic furnishings
Well-appointed professional kitchen
Mud room for your waders and equipment
Radio contact with the base, and telephone and email as needed from Fort Boettcher headquarters, a few miles south.
Extraordinary privacy
Extraordinary comfort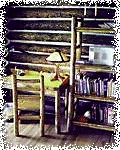 Food, Drink, Entertainment:
Meals feature perfectly-aged beef, wild elk, buffalo and other game as available, and fresh brook trout, of course. Lighter meals are available at your preference.
Wines (we lean toward Bordeaux and California Merlots) are chosen to complement these meals and an open bar is stocked for your pleasure.
Sightings or sounds of elk, deer, antelope, beaver, moose, and coyote are frequent.
Our library of books and music
Playing cards, chess, checkers
What to Bring With You:
Hiking gear, if desired
Your favorite rods and tackle and waders, if you'd like (otherwise, use ours)
Riding boots, if you intend to go horseback.
Layered clothes
Don't forget your camera


© 2002 Park Range Ranches
888-321-7275 fish@parkrange.com